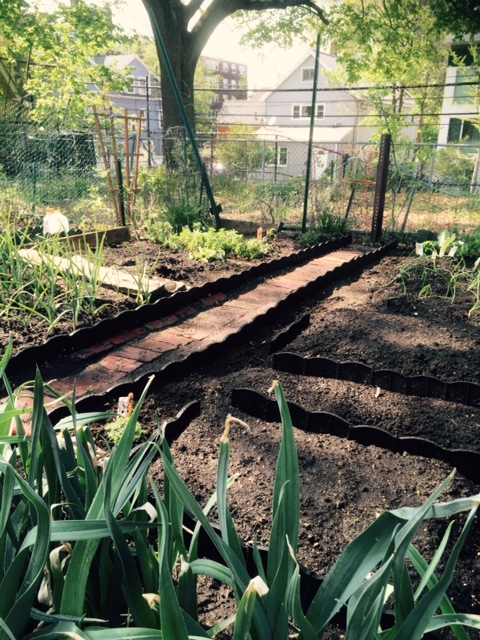 Spring, summer, fall, winter, and then back to spring. The rhythm of a year is both reassuring and haunting. When you are going through a new experience – a job, a new school or city, or any life change – the first year is unfamiliar and every season is unexplored territory. Then suddenly, you are back to a time of year you remember and something shifts. For better or for worse, you have been here before and you know more or less what to expect. "Here we go again," you think, with your heart singing over the good stuff and sinking over memories of the bad.
I approached this spring and summer with some trepidation as I remembered some tough times the year before. Once I realized what was happening I gave myself a good shake. I needed to remind myself that each day dawns fresh, full of possibilities, unburdened by the past. I had to get clear on the idea that, while the seasons repeat themselves, the events of history do not have to. The seasons may be familiar but we are each, in fact, quite different than we were the year before, precisely because of those events. All the experiences and lessons offered throughout the previous 12 months are alive within us and ready to guide us through the new year if we but take the time to listen. The year rolls through its cycle and, like magic, we get another chance with each revolution to apply our new knowledge.
With that thought in mind as I planned my garden for this year, I decided to see what I could learn from last year's efforts and do things a bit differently this time around. Remembering the bugs that ruined the arugula and broccoli, the spinach that never even sprouted, the overgrowth and powdery mildew, and of course the unforgettable crowding and subsequent jailbreak of the pumpkins, I knew there was lots of learning to be done. A good look at my favorite gardening book Vegetable Gardening in the Northeast by Marie Iannotti gave me some insight into how to avoid these problems and I soon had a plan.
First of all, this year I planted a whole month earlier, spending Mother's Day with my hands in the dirt. That early start should produce some tender salad greens. I also did not put any plants in the same part of the garden they were in last year, as rotating them keeps the soil from getting depleted by the nutrient needs of each type of plant. In keeping with the desire to keep the soil full of good nutrients for the hungry plants, I (or rather my husband – thank you!) amended it with lots of good compost before anything went into the ground. I also sprinkled scoops of New England fish fertilizer around. Not sure that will do anything but I figured, "How can it hurt?"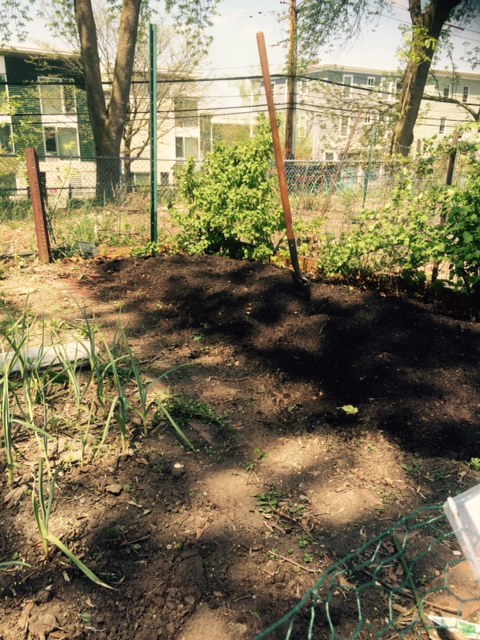 Perhaps the biggest challenged I faced was to not over plant, remembering how big those tiny plants eventually became. No broccoli, pumpkins or eggplant this time, and fewer zucchini, but I did add 2 tomato plants this year. Kind of excited about that, as there is just nothing quite as tasty as a sun warmed, ripe tomato right off the vine. To deter the bugs I interspersed herbs and flowers among the vegetables. Last year the herbs struggled in their shady corner of the garden so we will see how happy they are peeking out from in and around the other vegetables.
When we lived in Oregon, one of our greatest garden surprises was the delectable taste of home grown potatoes. This year I ordered seed potatoes and gardening bags from Wood Prairie Farm in Bridgewater Maine. Check out their website: http://www.woodprairie.com/category/certified-organic-seed-potatoes. I am really looking forward to seeing how those work out and tasting those taters in a couple of months.
The last change is in how I laid out the garden. Last year, everything was a bit haphazard, so I never knew if the little green shoots coming up were weeds or something I had planted. This year I planted the greens in mounded rectangular planting beds, and the root vegetables in wide rows, so it should be more obvious what to weed and what to leave. Already we are off to a good start, with the leeks getting fat and sturdy, and the lovely green garlic shoots from Gilroy marching in two straight roes. Who knows how it all will grow this year? I know there will be lessons in the seasons ahead, but it is reassuring to know there has been much learned already. I will welcome each dawn, ready for whatever comes next.