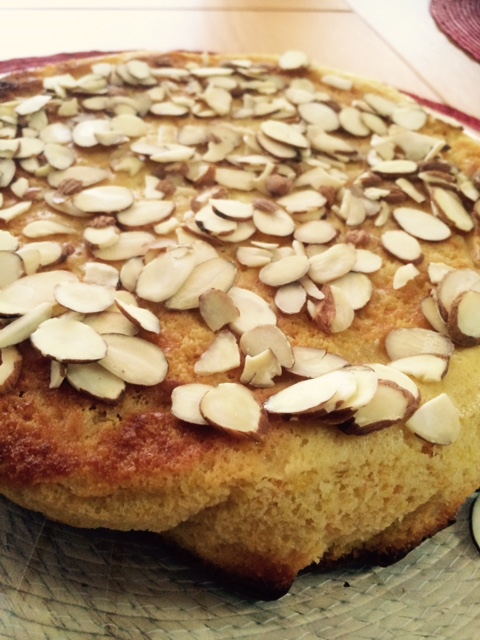 I have always loved Passover: the chaos, the rituals, the food. I love the reclining, the storytelling and the matzo-ball soup. I love the charosis – apples, walnuts, wine and cinnamon – layered into matzo sandwiches with horseradish that makes my eyes burn. I love the parsley dipped in salt water and the gefilte fish, yes, even the gefilte fish. I gorge on matzo and hardboiled eggs all week until my insides turn into cement. I love how the spotlight turns on the youngest child who asks the 4 questions and how all the children hunt for matzo and get prizes. I love opening the door for Elijah, and seeing the wine in his cup disappear, the Seder Plate full of symbolism, and the way we read the Haggadah around the table and bless everything we eat and drink. And how about those 4 glasses of wine? What Jewish pre-teen hasn't felt their first drunken giddiness from parent-sanctioned Manischewitz at a Passover Seder?
The tradition of welcoming strangers to the table is one that is especially close to my heart. When I lived in Portugal as a child, our family hosted the only Seder in the area and wandering Jews always somehow found their way to our table. There were a handful of Jews in our expat community, and everyone brought their own traditions, loudly over-riding each other, insisting on their favorite tune or prayer. My memories of Seders past will always be accompanied by the grating sound of small, compact, red-haired Sophie Goldenblum belting out Chad Gadya with her New York accent.
This year we are the wanderers, as we drive to New Jersey for my husband's family gathering. Every year his brave cousin hosts Seder for 4 generations of 25 raucous aunts, uncles, cousins and children, but we have often lived too far away to attend. Unlike my own family's speedy service, this group reads every word and observes every rule, going late into the night. I will bring Orange Almond cake, Chocolate Biscotti, and a roasted artichoke tomato salad for our contribution, as the regulars will be providing my favorite staples of charosis and gefilte fish.
The youngest may ask the questions at Seders, but as an adult I have begun to ponder the meaning of the oft told story of the Jews' exodus from Egypt. Yes, we were slaves and we celebrate our escape from bondage, but then we wandered in the desert for 40 years. I never really thought much about that part of the story until now. We wandered and sometimes we lost our way. We struggled and made mistakes. To be released from bondage sounds like a good thing, but once freed we must figure out what is next. When the shackles come off, we can then decide who we want to be, how we will live. In the unknowing, in the wilderness, that is where we have the space to grow, to learn, to develop. It is work but, unlike slavery, it is work we do for ourselves.
This Passover I would love to wish for freedom from pain and worry and bad times, but that is, in truth, not even desirable: from those dark times come light. When my father died at this time 7 years ago, our rabbi compared the grief we felt to this wandering in the wilderness. There was a comfort in that, in the idea that we would wander through this hard time and that we would eventually come through it whole.
So this Passover as I look at the world and the struggles we have with one another, I pray instead  for freedom from a different sort of bondage: I pray for us to be free from judgment – of ourselves and others, free from hatred, unkindness and cruelty. And in my wandering I will look for manna wherever I can find it, manna in the form of compassion, love, tolerance and peace.
Happy Passover, one and all.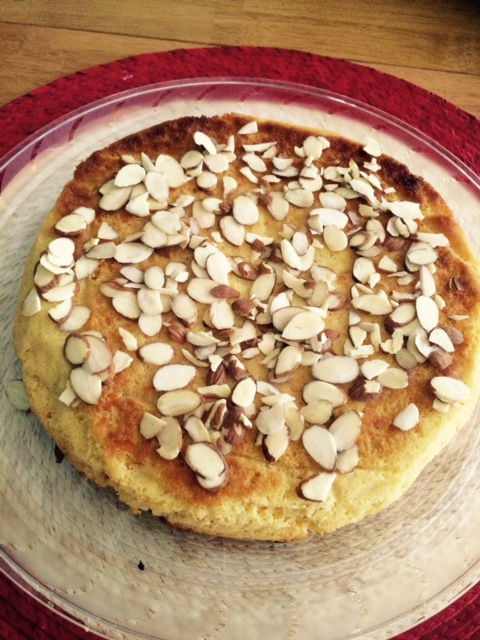 Orange Almond Cake  (A colleague shared this with my back in the 80's – I hope she doesn't mind me sharing it with you now!)
Preheat oven to 400 degrees. Line a 9 inch spring-form pan with parchment paper.
Boil 2 naval oranges in water just to cover until soft (about 30 minutes) Allow to cool, then puree in a food processor.
Beat 6 eggs until thick and pale yellow. Beat in 1 cup sugar, 1.5 cups ground almond flour, a pinch of salt, and the pureed oranges.
Pour into prepared pan and bake one hour. Allow to cool completely before removing from pan. Decorate with slivered almonds.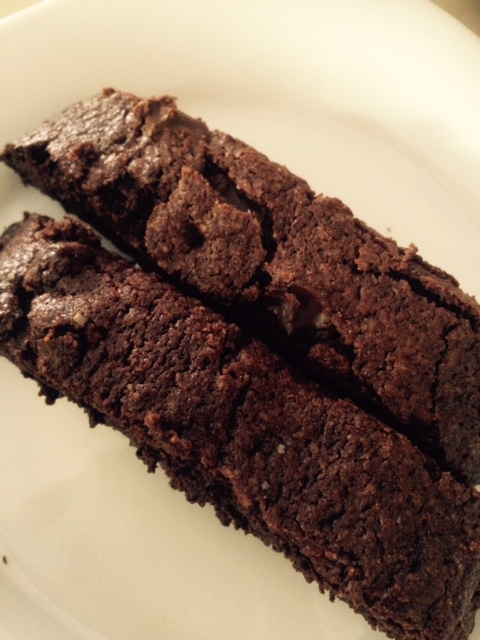 The recipe for the amazingly delicious Chocolate Biscotti I made comes from this Boston Globe article:
http://www.bostonglobe.com/lifestyle/food-dining/2015/03/31/recipe-for-passover-triple-chocolate-biscotti/h96tanKbiWBmGe0HKTOnkM/story.html
A great source of gluten and grain free Passover recipes is Elana's Pantry. Her gluten free matzo balls are wonderful!
http://elanaspantry.com/passover-recipes/
A light and delicious salad for any occasion is my Roasted Artichoke and Tomato Salad:
Rinse and thaw two bags of artichoke hearts (I get them at Trader Joe's). Place in one layer on a roasting pan. Sprinkle with 1 tsp coarse salt and 2 TBSP vegetable oil. Roast, turning occasionally in a 400 degree oven until slightly browned. Cool.
In a large salad bowl, combine 2 pints of cherry tomatoes, one sweet onion chopped and rinsed to remove the bite, one finely chopped red pepper and one chopped red pepper.
Make the dressing: Soften one garlic clove in the microwave for 5 seconds. Smash with a fork and mix with 1 tsp coarse salt, freshly ground pepper, 1/2 tsp oregano, 2 TBSP lemon juice, 1/2 tsp Dijon mustard and  5-6 TBSP walnut oil (or olive oil). Mix well and toss into salad.