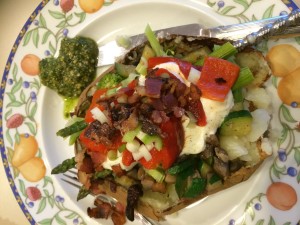 I had to chuckle when someone in my book club brought this New York Times article to my attention:  Really? You're Not in a Book Club? 
It seems everyone today is in a book club. In fact, I have been in one or another for the past 23 years. The first one was formed by a couple of new moms and myself when our babies were very young and we thought we were losing our minds. Our only rule was that we couldn't talk about our children. Ten years later, in a new city, a friend and I started a Mother-Daughter Book Club that included those very babies I had been escaping earlier. I have belonged to couples book clubs and neighborhood book clubs, serious discussion groups and free for all get-togethers. When I moved to Boston I was lucky enough to be invited to join a wonderful group of women who have been reading and discussing books together for years. I knew right away I would like my new home.
While each club has been different, there is one element they all have in common: food. From snacks to dinners to desserts, every group provides some kind of food and drink to bring everyone together and get the discussion started. Today, however, there are so many dietary limitations that providing a meal can become a minefield. Paleo? Vegan? Gluten-free? Lactose intolerant? Food allergies? What should be a warm hospitable offering becomes fraught with obstacles. Add to that the busy schedules we all keep, and hosting book club can suddenly become a stressful chore.
Our book club members began addressing this issue recently and we have almost giddily released ourselves from expectation and obligation. Instead of the required dinner of the past, now we each get to decide what we will do when we host: heavy appetizers? Dessert only? Potluck? Take-out? Anything goes and everything is accepted. What a relief!
When my turn came to host last week, I decided on a Pot Luck Baked Potato Bar. I provided the baked potatoes (Russet and sweet) and a few toppings, and everyone brought a topping or two to share. I sent an email out the week before asking people to let everyone know what they would bring so we didn't end up with 5 bowls of sour cream. We kept it simple, so that no one felt burdened.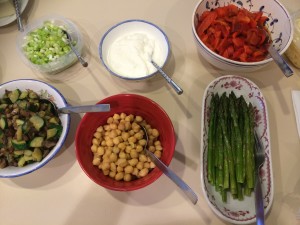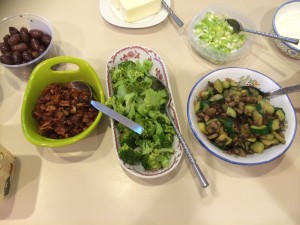 As the hostess, it was the easiest meal I could imagine. Baking the potatoes and a making a few toppings is a breeze. All the toppings, as they come in the door, get lined up buffet-style on the kitchen counter. The theory is that everyone starts with a potato on a plate, sliced open and steaming, and they each go down the buffet counter adding the toppings they chose: everyone gets to make their own perfect plate. The needs of every diet are met: toppings span the Paleo to vegan range. The reality that evening was even better than the theory: everyone approached it her own way. Some people ate in courses, eating one layer of toppings and then going back for different ones until they got to the potato skins. Some of us loaded everything on at once and mixed it all up. Who said grown-ups shouldn't play with their food? We all had fun and were plenty stuffed by the end.
After a short break though we were all ready for a treat, of course: a pot of melted chocolate with fruit to dip, another potluck opportunity.
POT LUCK: Book Club Baked Potato Bar and Pot of Chocolate
PROVIDED BY HOSTESS:
Extra large Russet potatoes, 1 per person plus a few extras in case one has a bad spot inside
Sweet Potatoes, a few for those who don't eat white potatoes
Wash the potatoes and prick them several times with a fork or sharp knife, to allow the steam to escape as they bake. Otherwise they can explode in your oven! Bake the potatoes at 425 degrees for about one hour. They are done when you give them a slight squeeze (with your hand in an oven mitt) and they give and are soft inside.
TOPPINGS:
PROVIDED BY HOSTESS AND GUESTS:
Veggies
Roasted asparagus
Roasted red peppers
Sauted zucchinis
Sauteed mushrooms
Steamed broccoli
Chopped scallions
Protein
Garbanzo beans
Bacon
Sliced steak or chicken breast
Extras
Butter
Vegan margarine
Sour cream or plain yogurt
Pesto sauce
Grated cheese
Olives

CHOCOLATE POT
PROVIDED BY HOSTESS:
Melt 2 cups chocolate chips with about 2/3 cup milk (or almond or coconut milk) in a double boiler, stirring until smooth and glossy.
Serve in individual little bowls with dippers.
DIPPERS:
 PROVIDED BY HOSTESS AND GUESTS:
Strawberries
Pineapple
Bananas
Marshmallows
Cookies
Nuts
Pretzels